Meet Treayor Smith, L. Ac., Dipl. OM, C.SMA Acupuncturist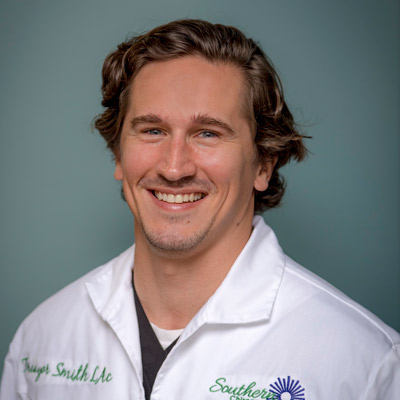 Federal Investigator Turned Acupuncturist
Treayor grew up in the DC area as the son of a Secret Service agent. In college, when the horrific events of 911 happened, he felt a calling to serve his country. He earned his undergraduate degree from Appalachian State University in Criminal Justice. His career then started by working as a federal investigator for the government in Charleston, South Carolina.
Treayor performed background investigations for the military with the intent of one day moving into the FBI or another major agency. Once he got into the field, he had a change of heart and was ready to switch careers.
What attracted him to acupuncture was when his dad had this healing practice done on his knee. "On a whim, my father asked if I had thought about becoming an acupuncturist." At that time, Treayor had just gotten laid off through the contractor he was working with.
He took his severance check and drove cross country to Arizona to visit a friend. As his friend worked during his stay, Treayor decided to explore Phoenix. One day during his trip, he randomly walked into an acupuncture school. After he had a conversation with one of the professors there, Treayor knew in about five minutes that he would become an acupuncturist.
Education & Certification
Licensed since 2011, Treayor attended Pacific College of Oriental Medicine-Chicago and earned a Master of Science in Traditional Oriental Medicine (MSTOM). He also achieved Sports Medicine Acupuncture Certification (SMAC), which is a four-year program.
Additionally, Treayor acquired sports performance techniques, but is primarily trained in orthopedics. He is also Dao (knife) needle certified. This method uses knife therapy to address scar tissue and chronic pain. Treayor also has taken battlefield acupuncture courses, which is the protocol that the US military is now training our medics to use.
Promoting the Natural Path First
"I think that if anyone has pain or a health issue, they should go down a wholistic route before they ever start taking a pharmaceutical drug or getting any surgery. Although acupuncture is technically a microsurgery, you're not altering the body or injecting anything into it. Instead, you're helping electricity go where it needs to go, and you're breaking up blockages."
Outside the Practice
When he's not working, Treayor enjoys spending time with his wife and their young son. He and his wife like to hike and be outdoors. Treayor also enjoys working out, running, and going to the beach. He's a big lacrosse and football fan, and hunting with his father is one of his favorite things to do.
Book an Appointment
Discover the benefits of acupuncture. Contact us today to schedule an appointment!
Contact us today for an appointment!

Treayor Smith | (912) 243-9200