Auto Accident Care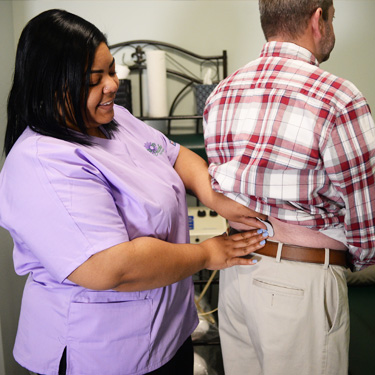 At Southern Chiropractic & Wellness Center, we believe that prescription pain pills are no way to heal your body after being injured in an auto accident. Our team, can help get your body back on track through natural, safe and effective chiropractic care, acupuncture, massage and our other modalities.
The best time to seek care with us after an auto accident is right away as disruption and misalignment can occur immediately in the body but may take days, weeks or even months to present as pain or other types of symptoms. The sooner you seek help, the less likely you are to experience more degeneration down the road.
Auto Accident Care at Southern Chiropractic & Wellness Center
When you visit us for your care, we'll begin by taking different films (X-rays) of your neck and spine to get a better idea of your injury, vertebrae and any torn ligaments. If you're in severe pain, we'll perform different types of modalities including stretching, intersegmental traction, or ultrasound therapy to help control it while we develop a custom care plan for you.
For the best results, we like to see patients a few times each week in the beginning to give your body the care it needs. As you progress and feel better, we'll gradually lessen your visit frequency.
Our team has more than 30 years of experience in helping patients of all ages restore their health after experiencing whiplash or other common auto accident injuries relating to the back, neck or shoulders, ears, hands or eyes.
Restore Function to Your Body
If you've been injured in an auto accident, we encourage you to contact our practice today to book your first appointment. Let us help your body return to its full function, free of pain and back to health!
CONTACT US

Auto Accident Chiropractor Statesboro, Metter, Sylvania GA | (912) 243-9200