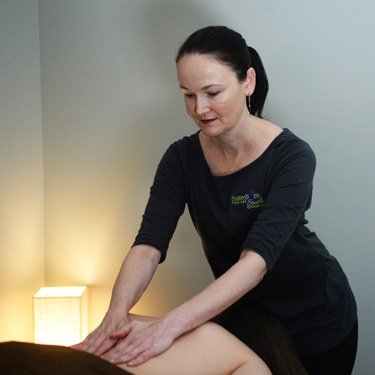 Massage Therapy
We all know what wonders an occasional massage can do. The deep muscle-relaxation that a professional massage therapist can bring is almost unequaled. The Southern Chiropractic & Wellness Center massage therapists are highly skilled and utilize different types of massage styles based on your individual needs. The benefits of massage can restore damaged muscles and the stress of accumulated from the everyday. We offer different styles of massage to treat different levels of muscle tension located in different areas of the body.
Swedish Massage
The primary goal of the Swedish Massage is to provide relaxation for the entire body. This is accomplished by working the muscles with long gliding strokes in the direction of blood returning to the heart. Swedish Massage is exceptionally beneficial for increasing the level of oxygen in the blood, decreasing muscle toxins, improving circulation and flexibility while easing tension.
Session Times: 30, 60 or 90 Minutes
Prenatal Massage
Massage therapy is a healthy way to reduce stress and promote overall wellness during pregnancy. Massage relieves many of the normal discomforts experienced during pregnancy, such as backaches, stiff neck, leg cramps, headaches and edema (or swelling). Depending on where you are in pregnancy, your therapist may utilize Swedish massage or certain techniques that address your specific requests and needs.
*Must be in your 2nd trimester of pregnancy and doctor's written consent is preferred for all Prenatal massages.
Session Times: 30 or 60 Minutes
Chair Massage
A chair massage is a brief, stress-reducing massage given to a patient while seated in a comfortable, supporting portable massage chair. It offers many advantages including increase in circulation, stress reduction, calming of the nervous system and a boost in alertness.
Session Times: 15 or 30 minutes.
Deep Tissue Massage
Deep Tissue Massage, also known as neuromuscular therapy, is designed to relieve pain and muscle tension throughout the body. This type of massage is extremely beneficial because it reaches the deepest layer of muscles, fascia and tendons.
Session Times: 30, 60 or 90 Minutes
Hot Stone Massage
Hot Stone Massage therapy melts away tension, eases muscle stiffness and increases circulation and metabolism. Each hot stone massage therapy session promotes deeper muscle relaxation through the placement of smooth, water-heated stones at key points on the body.
CBD Massage
CBD is Non-Psychoactive and Anti-inflammatory. Massage creams and oils infused with CBD, are inherently therapeutic for the mind and the body. CBD is a highly-targeted approach to pain relief because of the way it works as a lock and key system with the human body. Injuries to joints, muscles, tendons, ligaments, and nerves all respond well to CBD massage. CBD leaves you feeling relaxed and alert (as opposed to groggy or high).
Lymphatic
Lymphatic Drainage Massage is a form of gentle massage that encourages the movement of lymph fluids around the body.
Lymphatic Drainage Massage can benefit people who are experiencing the following:
lymphedema
fibromyalgia
swelling or edema
skin disorders
fatigue
insomnia
stress
digestive problems
arthritis
migraine episodes
People should not have a lymphatic massage if they have congestive heart failure, blood clots, kidney problems, infections, or circulation problems. If a person has any medical conditions, they should talk to a doctor before trying a lymphatic massage.
Schedule Today!
Call today to schedule a Massage Therapy appointment for the ultimate relaxation and rejuvenation. Be sure to alert the Massage Therapist assisting you of any injuries or disabilities.
CONTACT US »

Massage Therapy Statesboro, Metter, Sylvania GA | (912) 243-9200