Meet Dr. Taylor Sparks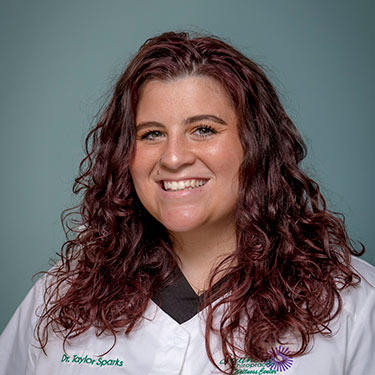 "As a chiropractor, I love having the ability to help people without relying on any medication." Dr. Taylor gets to the source of the problem without just covering up the symptoms.
Embarking on the Chiropractic Path
Dr. Taylor originally intended to become an athletic trainer, but knew she wanted to do more in the medical field. She just wasn't sure how she wanted to go about it. In New York, she served as the head athletic trainer for a baseball team. The team doctor was a chiropractor, and Dr. Taylor was trying to decide what she wanted to do after undergrad.
"The team doctor encouraged me to shadow her to see if I was interested in chiropractic. I worked under her for a couple months, and loved it! That was when I started applying for chiropractic school."
Education and Techniques
Dr. Taylor earned her bachelor's in Athletic Training from Alfred University in Upstate New York. Then she attended Palmer College of Chiropractic in Port Orange, Florida, earning her Doctor of Chiropractic degree. Dr. Taylor is also a certified Athletic Trainer in Georgia. She offers the following therapies:
Sports Specific Treatment
Kinesio taping
Muscle scraping/ Myofascial release
Cupping
Injury Prevention and Rehabilitation
Pregnancy Adjustments
Pediatric Adjustments
Her certifications include RockTape and RockBlades
Dr. Taylor uses a diversified adjusting technique, meaning she combines all types of adjusting to best fit each patient. "Each patient is different. Some may respond better to an instrument-assisted technique, like with an activator, while other patients may respond better to manual adjusting. I try to cater each technique to my patients so they are getting what is best for their body."
EXPLORE OUR SERVICES »
Finding Fulfillment Helping Patients
Dr. Taylor's patients recognize that she wants to help them and get to the bottom of their health concerns. "They're not just another patient on the list of people that I have to see that day. I'm truly interested in what's going on with them and want to help them as much as possible." Because her patients come in often she gets to know them and their family.
In Her Spare Time
Outside the practice, Dr. Taylor enjoys spending time with her rescue dog Casper and her boyfriend Brendan. She and Brendan love to cook and bake together and have been attempting to grow their own vegetables and herbs. They are also both huge football fans. Dr. Taylor loves Penn State and the Denver Broncos. "Football season is always our favorite time of year."
Book an Appointment
Contact us to schedule an appointment with Dr. Taylor!

Meet Dr. Taylor Sparks | (912) 243-9200