Meet Dr. B. Keith Waters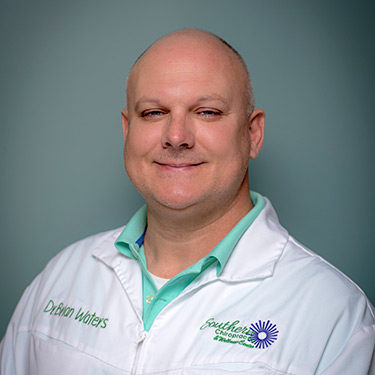 Getting results for patients using natural chiropractic care is one of my greatest passions. What I enjoy most about being a chiropractor is the difference you can make in people's lives.
Choosing the Chiropractic Path
Growing up in a small community, Dr. Keith knew of a few chiropractors and heard of the ways they had helped people. Then in high school, he and his classmates were given the assignment of thinking about different career paths.
Although becoming a chiropractor was always in the back of his mind, Dr. Keith first studied to become a teacher. He was a biology major at Georgia Southern University, where he earned a degree in secondary education. He taught for several years after getting out of school. Then when he was a little older, Dr. Keith had a chance to return to school, and the next stop was chiropractic college.
Opening People's Eyes to Chiropractic
"As many people still don't know what chiropractors do, I enjoy educating them about chiropractic and opening their eyes to a different way of doing things." When he meets with patients he likes to give them little nuggets of information they probably have never heard before.
Education and Certification
Dr. Keith earned his Doctor of Chiropractic from Life University in Marietta, Georgia. The decision to attend Life was based on several factors, including its location, their various outreach programs, and their philosophies, which resonated with him. In addition to his doctorate, Dr. Keith is also certified in physical therapy modalities.
Outside the Practice
When he's not working, Dr. Keith enjoys spending time with his wife Leighan and their daughter Alaina. The family enjoys traveling when they can. Dr. Keith and Leighan also enjoy cooking and at one time had a catering business.
For years, Dr. Keith also taught for The Technical College System of Georgia and hopes to return to teaching part-time.
Book an Appointment
Take that first step toward optimal health. Contact us today to schedule an appointment with Dr. Keith!

Dr. B. Keith Waters | (912) 243-9200